Innovating Resource Efficiency
Upcycling the Scraps
from Plant Resources
Amorepacific Group develops technologies and products using discarded plant resources as materials to reduce the generation of waste and improve the efficiency of plant resources.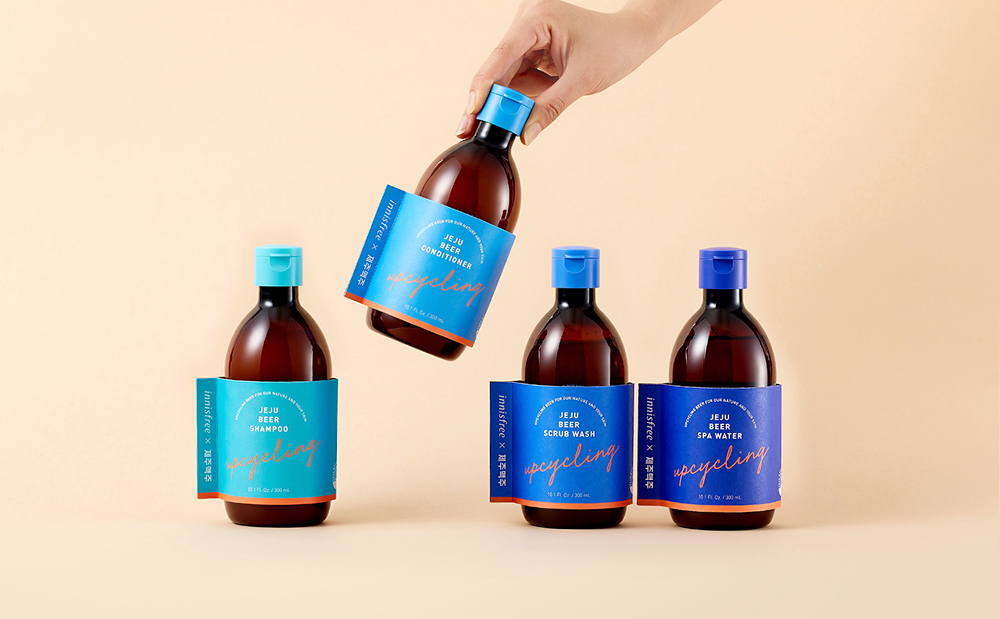 From Green Tea Byproducts to Green Technology Products
Amorepacific R&D Center discovered a new functionality from green tea byproducts, generated about 200 tons a year. To increase resource circulation and reduce waste, we focused on developing the technology to extract the ingredient with the new functionality from green tea byproducts since 2016. As a result, in 2019, we successfully produced 'green tea polysaccharide powder' and 'camellia sinensis leaf dietary fiber', which are ingredients in dietary supplements, and obtained the Green Technology Certification (technology manufacturing functional biologically active green tea ingredient from residual green tea extract, GT-19-00682). With this green technology, more than 90% of waste generated in the manufacturing process of dietary supplements made with green tea extract was reduced. We also launched VITAL BEAUTIE Meta Green (green technology product certification, GT-19-01505), which contains the functional ingredients extracted from green tea byproducts, continuing our healthy and beautiful challenge towards building a virtuous circle of resources.
Upcycling for Sustainable Jeju
Upcycling Beauty found in Beer
innisfree initiated 'Upcycling Beauty' project to discover beauty ingredients from discarded resources, joining the movement of sustainable environmental protection of Jeju. In 2019, innisfree collaborated with Jeju Beer, releasing hair and body care products using brewer's grain, the residue of barley and wheat generated in the process of brewing beer. innisfree strives to enhance the infrastructure for upcycling beauty, continuously raising the social issue of waste.
Upcycling Coffee Grounds, Rediscovery of Coffee Waste
innisfree increased the efficiency of resources by establishing the first upcycling beauty infrastructure and upcycling discarded plant resources into cosmetic ingredients. In 2018, in collaboration with Anthracite Coffee Jeju, innisfree rediscovered the value of coffee grounds from one cup of coffee, of which 99.8% is discarded as coffee waste. innisfree transformed discarded coffee grounds into scrub powder and extracted coffee oil with excellent moisturizing properties from coffee grounds to develop a special exfoliator as an upcycled product. In addition, innisfree continues to source coffee grounds from material suppliers and waste handling companies, achieving mutual growth with the local community.