Natural Ecosytem
innisfree PLAYGREEN Campaign
innisfree's PLAYGREEN campaign began with the idea that living a green life doesn't have to be difficult or boring. Together with our customers, innisfree finds and shares fun and easy ways to protect and conserve nature in our daily lives.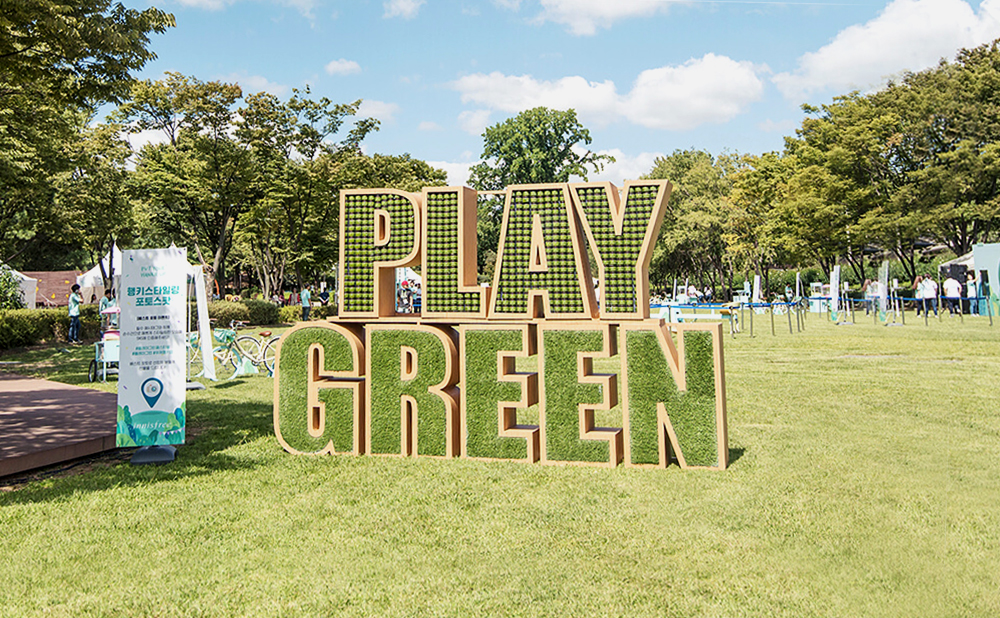 Fun Ways to Protect the Earth
PLAYGREEN Festival
PLAYGREEN Festival is a special festival where people who practice and enjoy living a green lifestyle can come together and have fun by sharing inspiration for a more sustainable life. In 2019, innisfree supported the global 'zero waste' movement by encouraging small & big waste-free practices in daily life, and brought together 2,500 PLAYGREENers under the theme 'I LIKE ZERO' to spend an enjoyable and fun event without any waste. Proceeds collected through ticket sales and donations made by customers were delivered to innisfree's Moeum Foundation to be used as funds in fostering forestation in Jeju Island.
Used Cosmetic Bottle Recycling Campaign
Since 2003, innisfree has continued its Used Cosmetic Bottle Recycling Campaign, where used cosmetic bottles returned to stores are recycled. Collected used cosmetic bottles are recycled into product packaging such as hair wax and hand cream caps, and are also partially used as finishing materials for stores. Added to this, innisfree applies PCR plastic in the brand's My Makeup series and introduces products using biodegradable packaging to replace plastic or refill type products as well.
Eco Hankie
PLAYGREEN with Eco Hankie! Eco Hankie has been one of innisfree's eco-friendly activities implemented with the belief that small efforts like using handkerchiefs can protect our environment. Since 2010, innisfree has consistently shared the message that anyone can practice green life in a fun way simply by using handkerchiefs.