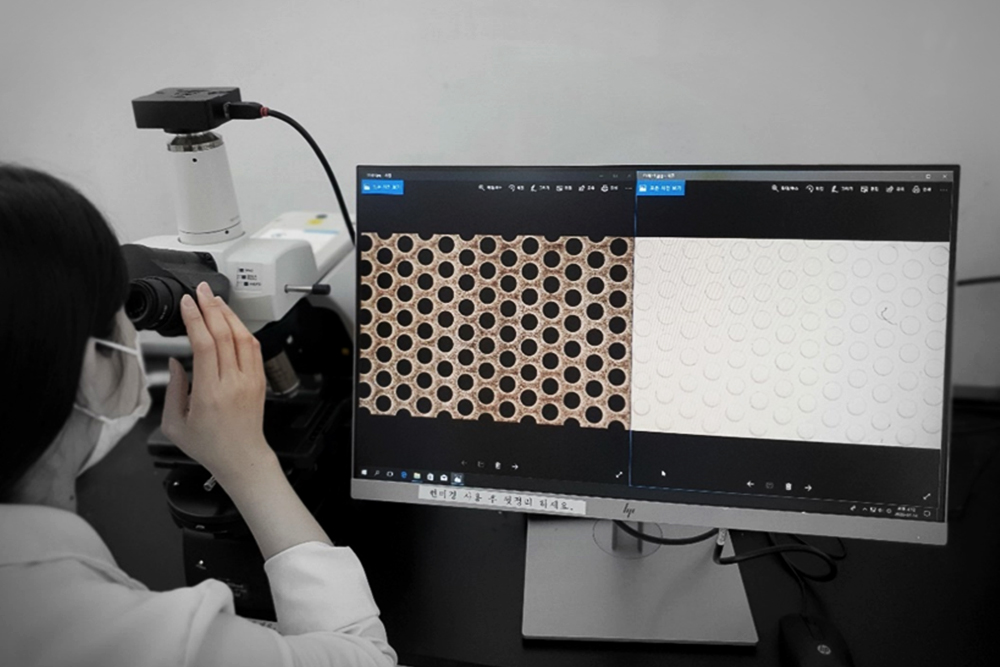 Technology in Creating Samples of Air Pollutants
The issue of air pollution, including PM2.5, threatens the health and everyday life of the people and has become an important issue in society. Since 2007, Amorepacific R&D Center studied the impact of external harmful environment like car emissions on skin. Other than previous studies that identified genes and UV rays as causes of skin aging, Amorepacific studied the impact of air pollutants such as exhaust, cigarette smoke, and yellow dust on skin and expanded the research to include PM2.5.
We aimed to collect actual PM2.5 that reaches our skin, not substance that mimics PM2.5, to study the impact PM2.5 has on skin. To collect actual PM2.5, Amorepacific installed devices to capture PM2.5 at the R&D Center and developed a method to create samples out of the collected PM2.5. Collected PM2.5 is used in defense, clean, and alleviation research by identifying the characteristics of PM2.5 based on component analysis.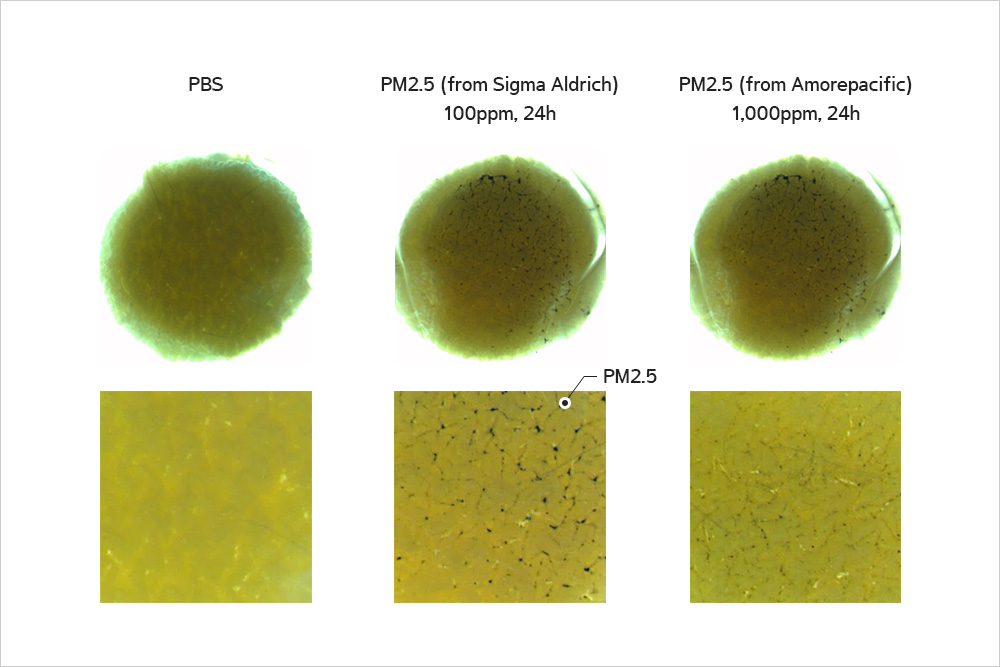 Anti-Pollution Defense Technology
Amorepacific conducted various studies on defending against PM2.5 that prevents or alleviates PM2.5 from adhering to skin. The main technology is forming a micro-curved makeup layer that covers the surface of the skin evenly and smoothly, consisting of particles of various of sizes densely across the skin. A technology that secures polymer that forms a defense layer of dermatropic particles also helps prevent PM2.5 from adhering to skin.
In terms of material, Amorepacific developed its unique specialized material that blocks and filters PM2.5 from penetrating into the skin as well as a technology that capsulates a functional material with stickiness into a hemispheric new material without the stickiness to alleviate PM2.5 from sticking to skin while maintaining the function of protecting skin. These defense technologies are helping resolve the problems of PM2.5 adhering to skin through products of LANEIGE and IOPE.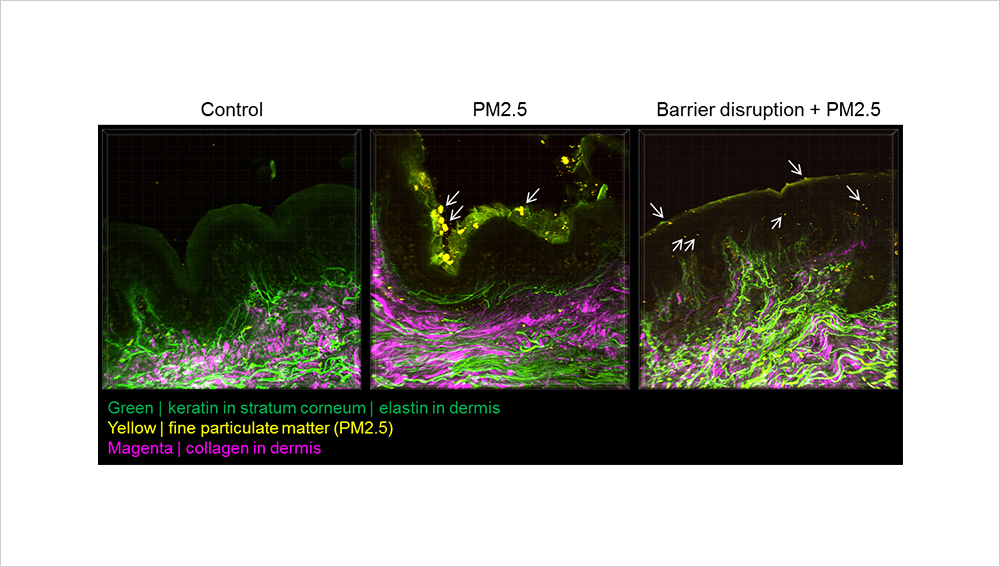 Anti-Pollution Clean Technology
We especially identified diverse approaches to effectively and completely remove PM2.5. Amorepacific R&D Center pursued to find solutions by capturing and analyzing actual PM2.5 and studying their components and physical characteristics. The first technology that was developed was a technology that removes PM2.5 using charge interaction. Amorepacific developed a technology to effectively remove the negative charge PM2.5 by stabilizing high content positive charge polymer in the formulation or adding it to AP(Anti-Pollution) Sphere.
The second technology is microemulsion cleansing technology. Amorepacific R&D Center confirmed the skin problems caused by residual PM2.5 in pores and the concerns and worries of customers through studies on Korean and Chinese customers and clinical research. It developed microemulsion cleansing technology that removes residual PM2.5 invisible to the naked eye remaining in pores using microemulsion cleansing technology. These anti-pollution clean technologies have been applied by various brands, including Mamonde, IOPE, HAPPY BATH, and AESTURA, solving customers' skin concerns.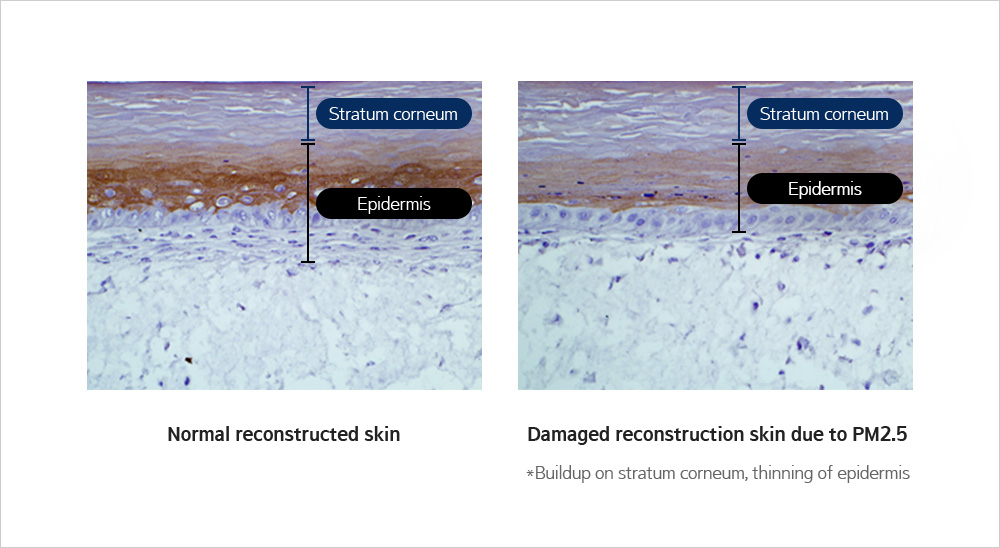 Anti-Pollution Alleviation Technology
Amorepacific pursues to identify the correlation between skin and PM2.5 and find solutions to protect skin from damages caused by PM2.5 based on scientific evidence. Through various customer studies and gene analysis, we confirmed that PM2.5 damages skin barrier and causes inflammation and skin problems as well as effects skin aging, including causing wrinkles and skin pigmentation. Based on research findings, Amorepacific has developed a harmfulness testing model of PM2.5 and is using the model in identifying materials to effectively alleviate skin damage from PM2.5.
We are proving the efficacy of such technologies through actual human trials or by setting up non-human trials that are proven to have the same verification capacity to actual human trials.
Amorepacific R&D Center is dedicated to offering the best solutions to protect customers' skin from different harmful substances applying various innovative technologies.