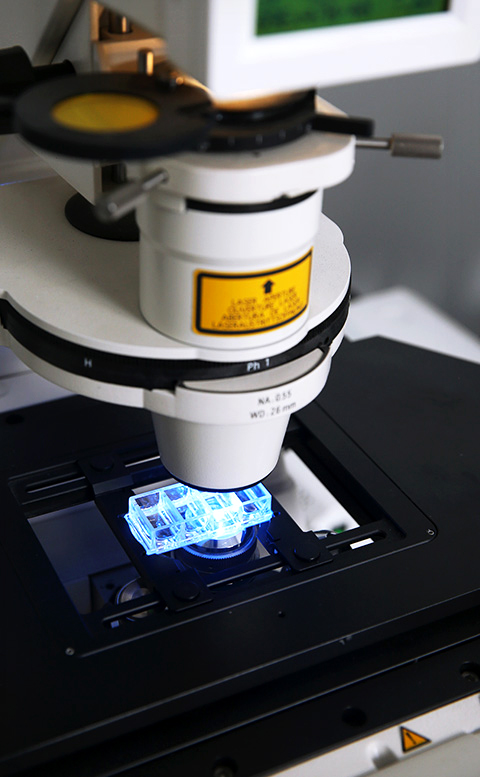 Skin Technology Trend: introduction of imaging technology for the detection of changes in skin
As the cosmetics industry grows and evaluating the safety and efficacy of products become more important, there is a rising demand for the development of credible efficacy testing based on precise scientific technology. Customers also seek efficacy comparisons that contain visual content helping them intuitively understand cosmetic efficacy, leading to much more interest around imaging-based skin efficacy evaluation. Focusing on such needs, Amorepacific R&D Center has developed various bioimaging technologies since 2015. It successfully introduced multiphoton microscopy, which is used to diagnose diseases in the biomedical sector, to skin research sector and further advanced evaluation technologies that enable us to evaluate anti-aging benefits and whitening effects.
Observation of the Changes in Melanin, Collagen, and Elastin which Indicate Skin Condition
Multiphoton microscopy uses a new concept optical microscope that can observe deep within the skin, enabling selective observation of key components of skin such as collagen, elastic, melanin, and keratin. Previous methods only allowed us to see parts of the skin surface, while multiphoton imaging technology allows us to see all the key components, including the dermis layer. Collagen and elastin, which exist in the dermis, are important indicators of skin aging, while keratin, which exists in the keratin layer, is a component of the skin barrier. And melanin, which exists along the epidermis, is an important indicator used in evaluating whitening effect. These are the key components in evaluating the efficacy and benefits of cosmetic ingredients. Multiphoton imaging technology has become an effective efficacy evaluation method that allows us to see whether these key components of skin are evenly distributed, whether they are damaged due to various outside stimuli (UV rays, fine dust, wounds, inflammation, and more), and how much they recover from damages when injected with cosmetic ingredients. Amorepacific R&D Center continues skin efficacy research utilizing multiphoton imaging technology and has received verification of its optical technology through a joint research with Korea Research Institute of Standards and Science, a government-funded research institute, since 2016. Equipped with the fundamental technology to visualize skin benefits, Amorepacific plans to apply it to research identifying unique materials that can deliver genuine benefits.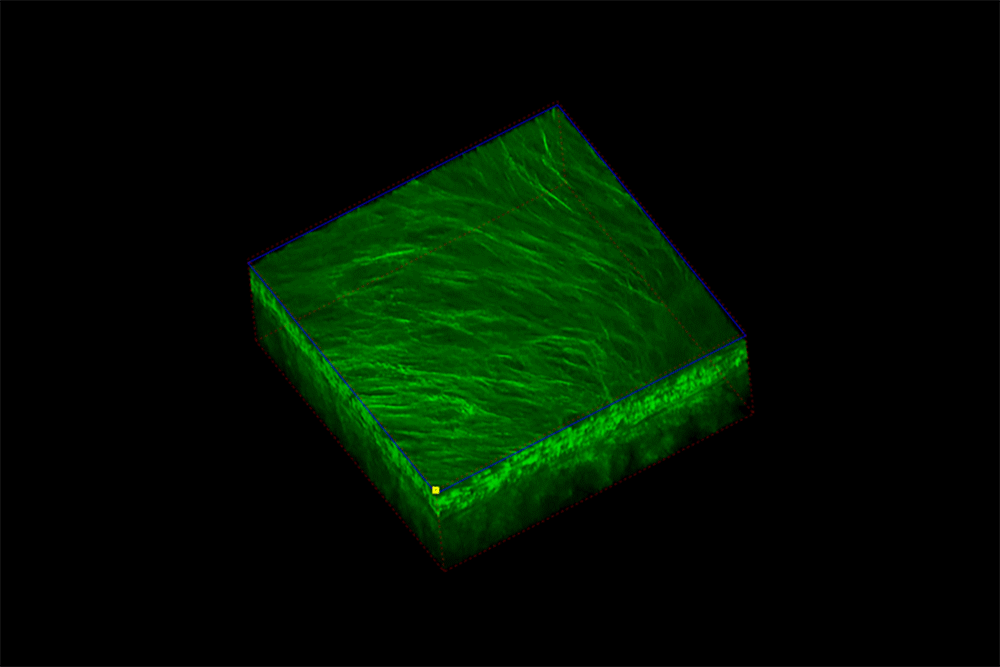 Visualization of Fine Dust
In 2019, we successfully advanced our multiphoton imaging technology that can image melanin, collagen, and elastin, allowing us to selectively visualize fine dust particles on the surface of skin. We can observe fine dust particles using the unique characteristics of its light without any pre-treatment process on skin tissues. It also enables a visualization of the surface of the keratin layer, allowing us to observe and compare how much fine dust particles stick to skin depending on skin condition as well as how much can be removed. Based on this technology, Antipollution Research Center is studying the ingredients and formulations that can effectively remove fine dust and protect skin.