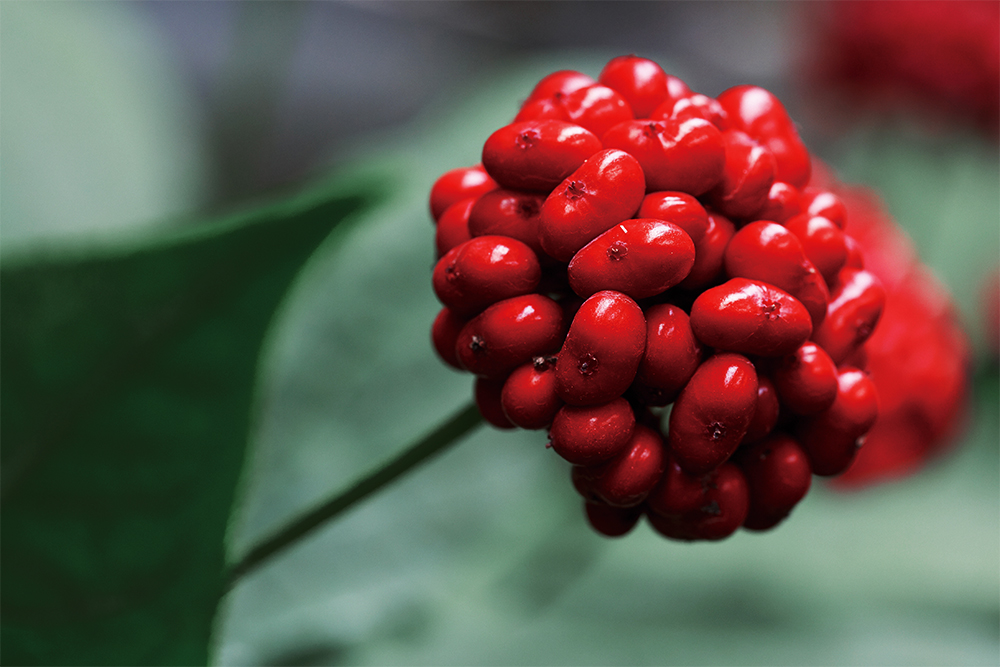 Technology Standardizing Ginseng Berry Ginsenoside
Ginseng berry reveals its precious appearance only once in the lifetime of ginseng, for only a week. Amorepacific discovered the functionality of ginseng berry through ceaseless ginseng research. Amorepacific developed a ginseng berry standardization technology that can optimize its effectiveness by using ginseng berry containing a differentiated composition of Ginsenosides, along with Ginsenoside, the rare ginseng saponin found in ginseng roots. Other than ginsenosides, ginseng berry contains syringaresinol, acidic polysaccharides, and anthocyanins. It is also rich in various minerals, including vitamin, calcium, and magnesium.
Research on Ginseng Berry's Anti-aging Benefits
Amorepacific discovered syringaresinol, an anti-aging ingredient, in ginseng berry and found through research that syringaresinol can be used to suppress the aging of blood vessel cells and protect cardiomyocytes. It has been found that intake of shiringaresinol in an aging model can inhibit collagen degradation and maintain skin structure. In addition, it was found that the intestinal microbiota exhibits similar characteristics to the not-aged model. In addition, research found that syringaresinol has an impact on extending life span in C. elegans model. The expression of ginseng berry's SIRT1 (longevity gene) was the most outstanding compared to other products known for longevity benefits such as green tea, garlic, natto, cordyceps militaris, wild grapes, or ginkgo nuts.
Research on Ginseng Berry's Immunity Benefits
Amorepacific discovered acidic polysaccharides, which affects the immune system, in ginseng berry. It was found that acidic polysaccharides activate macrophagocytes, strengthen immunity, and improve the activation of NK cells, inhibiting the factors that cause lung cancer. In addition, acidic polysaccharides suppress thymus aging as well as aging of the immune system by controlling various types of immunocytes that are important in active immune response. According to our research, acidic polysaccharides found in ginseng berries strengthen the immune function of the body and can be used as a new anti-aging ingredient. Acidic polysaccharides can also help improve lipid metabolism and colitis.
Research on Ginseng Berry's Metabolism and Skin Benefits
Amorepacific conducts research on metabolism and skin using standardized ginseng berry extract. We have studied the health of blood vessels such as enlarging of blood vessels or improving arteriosclerosis and found that ginseng berry extract helps improve blood vessel health. It was also found to improve skin tone and complexion as well as male sexual dysfunction through clinical trials. In addition, human trials found that ginseng berries contain anti-diabetic benefits. Ginseng berry extract was found to have skin whitening effect, and when taken, can extend life span compared to control group. It was also confirmed for its outstanding antioxidant benefits, effective in suppressing skin aging.