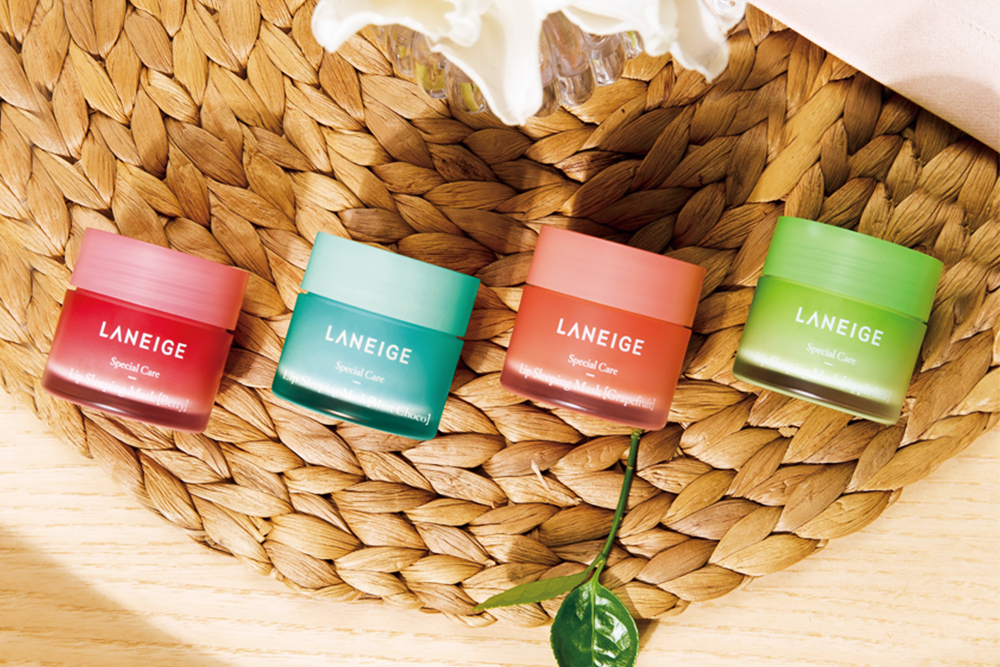 'The Creation of a New Lip Care Category with the New Beauty Regimen of Night Lip Care
Unlike other skin areas, lips do not have sebaceous glands and moisture evaporates quickly, making it an area of various issues related to dryness, moisturizing, and exfoliating. As the makeup market grows and expands, the frequency of applying lip makeup increases, leading to an increase in the use of matte lipsticks and tints as well. Customers show continued interest in healthy lip color, along with improving dry lips and exfoliating. Previous lip care products (lip balms and creams) were products made to apply frequently during the day, making the effect momentary and fell short of what customers who wanted a more deeper care expected. Amorepacific contemplated on a more intensive lip care and combined high functioning lip care technology with sleeping care to apply before going to bed. By combining the intensively moisturizing technology and mild exfoliating technology to night care, Amorepacific developed a lip-exclusive sleeping mask that is easy to use while delivering strong benefits.
Safe Non-irritable Exfoliating Lip Care
One of the biggest concerns when it comes to lip care is removing dead skin cells. Customers used lip balms to temporarily soften dead skin cells or remove it altogether with physical peeling. Amorepacific focused on finding a way to exfoliate that is not temporary or require an intensive process of removal of dead skin cells. Exfoliating enzymes become active in acidic environment, meaning formulation of a low pH is appropriate for exfoliating, but ingredients such as AHA and BHA, which are commonly used in exfoliators, can be irritable when used for long periods of time. And so, we needed a different approach. Amorepacific looked into oils and butters with acidity that do not irritate the skin but lowers the pH of the lips when applied and developed a slightly acidic structure by finding the most optimal content ratio. Lip Sleeping Mask, which combines such exfoliating care technology, enables easy and non-irritable exfoliating care during the night, delivering soft lips the next morning. This also solves customers' distress that comes with using matte lipstick or tint products, which require good lip health with no dead skin cells for the color to apply evenly.
Mask Balm Formulation Maximizing Long-lasting Moisturizing Effect
Previous lip care products delivered immediate moisturizing effect, but the effect did not last long because of their light texture. Amorepacific thought that if lip balms could be applied like cream (mask) thick and heavy on the lips that it would create a film layer and improve the lasting effect, delivering intensive lip care. It pursued to develop a formulation that can be scooped and applied like a cream product, while achieving the creation of a layer and long-lasting moisturizing effect through a mask-like texture that sustained throughout the night. Amorepacific added high moisturizing ingredients, such as shea butter and murumuru butter, so that lips were fully moisturized and applied plant-derived paste and high molecule polymer layer to maximize the effect of preventing moisture from evaporating. This supported the moisturizing effect to last for 24 hours.
Lip Sleeping Mask Loved throughout the World beyond Korea
Since its launch in 2015, Lip Sleeping Mask has been recognized by customers for its effectiveness in exfoliating and moisturizing as a lip-exclusive special care product. By word of mouth among customers who have experienced its effect, Lip Sleeping Mask quickly grew in Korea, and is now reaching other parts of the world including Asia, the Americas, and Europe. Since its release via Sephora US in 2017, it has been ranking as a bestselling item until today. In 2019, it received Allure's Best of Beauty Award and leading the lip care market, selling one unit every 5 seconds globally.